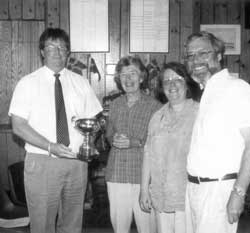 The St David's Trophy
Click on the picture to enlarge
St David's Trophy
2000 marked a high point in our company's history, when we were awarded the St David's Trophy by the Electric Boat Association. The trophy was presented to the EBA in memory of the late Viscount St Davids, the founder of the EBA, and a lifetime supporter of inland waterways and electric boating.
The trophy is awarded annually in recognition of outstanding contributions to electric boating, and was presented to Emrhys and Linda Barrell of TELCO in recognition of the company's contribution to electric boating, including the Electric Experience in 1995, the first all-electric boat show, organised by TELCO, and the 1997 World Endurance Record.
We are honoured to join a list of highly-regarded individuals who have received the Trophy in the past.