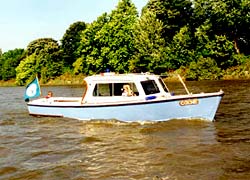 Colne
Click on the picture to enlarge
Patrol Boats
River authority patrol boats also benefit from electric propulsion, but may often need a diesel engine in reserve for extra speed, towing, or fire-fighting. The Selectric system, developed by TELCO in conjunction with the Environment Agency on the Thames, supplies this need perfectly.
A powerful electric motor gives a full day's patrol on silent electric power, proving highly popular with the crews, who do not have to spend eight hours at a stretch in front of a noisy, vibrating diesel engine.
However, at the turn of a key, the diesel engine can be started, and the electric motor switched off. The boat then has full power for emergency use, or for extended patrols on long summer weekends, or when the river is running in flood.
At present the system has been in successful operation on the Thames for the past seven years, and the Norfolk Broads for six years. Selectric can either be fitted from new, or to existing installations.