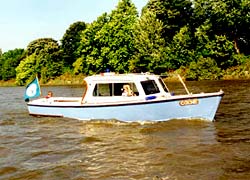 Diesel/electric patrol boat Colne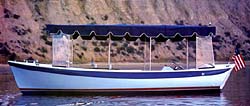 Voltaire 18 - ready to sail away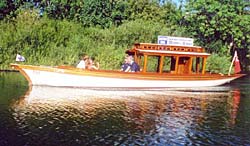 Electric record holder Pike
Click on the pictures to enlarge
Welcome to the Thames Electric Launch Company
Based on the River Thames at Goring, we are the longest established British firm dealing solely with electric boats and electric drive systems, and we have been at the forefront of many developments in this field. Our customers include the three major navigation authorities - British Waterways, the Environment Agency, and the Broads Authority - together with commercial operators, canal societies, and of course a huge family of private boat owners. We pride ourselves on our service, and always aim to supply the customer with the best equipment for their needs.
Our products range from the smallest electric outboard, up to electric propulsion packages for the largest canal or river boats. We also supply a range of electric boats, from skiffs up to 27ft launches. We work with the leading boatbuilders, and can supply them with electric drive systems for your boat. We specialise in electric packages for traditional launches, replacing worn out, unsafe petrol engines, and giving you silent, reliable power.
We use only the best equipment, from leading suppliers of motors, batteries, controllers and chargers, to ensure you get a package that is correctly matched and will give you years of reliable service.
Over the years we have developed many new products, and set world records for electric boat performance.
Come to the Thames Electric Launch Company and you will be in good hands.
Leading the way in Electric Boat Technology
---

Navigating the website
Move your mouse over one of the headings at the top of the screen. A menu will appear, from which you can select a product to view.