Interboat 16 with cruising canopy
Interboat 19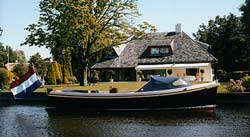 Interboat 25 open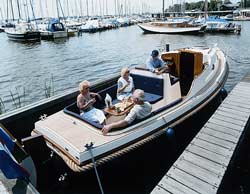 Interboat 25 cabin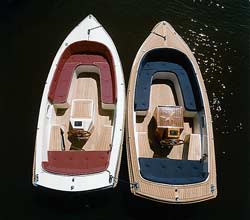 Two Interboat 16s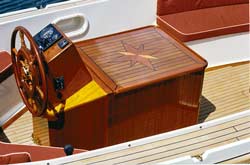 Mahogany engine box
Click on the pictures to enlarge
Interboat Launches
16, 19, 20, 21, 25, 25 Day, 25 Cabin
Diesel or Electric Power
The Interboat range of launches have been made in Holland for the past ten years, and have gained a reputation for reliability, high quality, and value for money. Independent magazine tests regularly place them top of the list for quality and price.
They are now available in the UK, in both electric and diesel versions, through the exclusive distributor, The Thames Electric Launch Company.
The boats all feature strong, seaworthy GRP hulls, built to the highest standards, under Lloyd's supervision. Every model has sturdy all round rope fendering, giving them a distinctive look, and providing complete protection in locks, and when coming alongside.
The standard boats all feature practical glassfibre finishes, but a wide range of extras are available to customise them to the highest classic standards. These include planked teak cockpit floors, and side-decks, and a beautiful varnished mahogany engine box.
Ideal for private or commercial use - sturdy enough for rivers or the sea
The launches are perfect for private use on rivers, lakes and the sea, but their sturdy construction and seaworthy hulls make them ideal for commercial use, for harbour masters, marina operators, fish farms, trip boats, and patrol boats.
Gentleman's Yachting Launch
The classic styling of the launches, and their practical roomy interiors make them ideal for the yachtsman wanting a reliable tender for his craft.
Diesel or electric power
All models are available with either diesel or electric propulsion. The diesel versions use well-proven Vetus diesels, with the enclosed engine-box and exhaust silencer giving smooth, quiet performance, with the extra power required for sea-going work, towing and extended range.
The electric motors are completely silent, and are ideal for inland waterways, rivers, lakes and canals, and environmentally sensitive areas. They are also perfect for marinas where you do not wish to disturb the residents. The strong, reliable motors, and heavy-duty batteries will give up to 8 hours use on one charge.
The Range
Models available include: 16ft, 19ft, 20ft, 21ft, 25ft all available as open launches in standard or Classic versions.
The 25 is also available as the 25 Cabin, with a full cabin forward, with twin berths, galley and toilet compartment, or a dayboat version, the 25 Day, with a cuddy cabin forward with twin berths and a toilet.

Specifications:
Interboat 16)

Length 15ft 9in (4.80m
Beam 6ft 8in (2.05m)
Draft 1ft 9in (0.55m)
Weight 600kg


Interboat 19

Length 18ft 8in (5.70m)
Beam 7ft 9in (2.35m)
Draft 1ft 9in (0.55m)
Weight 900kg

Interboat 21

Length 21ft 4in (6.50m)
Beam 8ft 3in (2.50m)
Draft 1ft 11in (0.60m)
Weight 1400kg

Interboat 25

Length 25ft 9in (7.85m)
Beam 8ft 6in (2.60m)
Draft 2ft 2in (0.65m)
Weight 1800kg