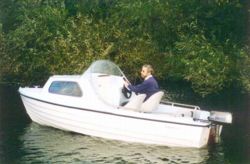 Electric Explorer
Click on the picture to enlarge
Electron
The Electron is a high-power electric outboard, designed as the main propulsion for small cruisers and river boats. It has been developed exclusively by the Thames Electric Launch Company, and will be available in production shortly.
It will be available in 1.5kW, 2kW and 3kW versions.
Please contact us for up to date information.