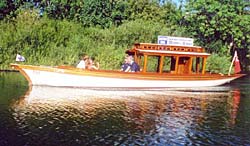 Pike
Click on the picture to enlarge
Classic Launches
Many classic river launches were originally built with electric motors and TELCO can quote for refitting these. Alternatively we can quote for replacement packages for existing petrol-engined boats, or for restorations.
Our electric packages are tailored to the exact requirements of the boat and its hull, ensuring reliable, troublefree cruising. We have many years experience of this, which ensures that you have the correct matching of components.
Some boatyards think they can simply buy a motor, some batteries, and a charger, fit them, and hope for the best. Regrettably this quickly leads to problems, with insufficient power for safe manoeuvring on the river, insufficient range, and short life from the batteries. Correctly specified and maintained, a battery pack should last for at least 8 years. Badly specified it might only last 2 years, an expensive mistake.
Electric motors should supply more than enough power for turning, stopping and overtaking, and we have many successful examples that we can show you. We will be happy arrange a demonstration on one of our customer's boats as convenient.